Addressing the challenge of "inner disablement" in the area of work & careers for technical students
India, as a nation, battles with a gap between promise & reality.
The promise is our extraordinary human resource potential, which if harnessed, can create exceptional social & economic good. The reality is the quality of our human resources – barely employable graduates, poor work ethic, limited  aspirations & comfort seeking behavior, and an unpreparedness for a digitally disrupted future.
Illumine has spent several years studying this gap between promise & reality and has experimented with  & tested out several alternative hypotheses & solutions to this challenge.
This has led us to recognize that the gap between promise & reality is an "enablement gap".
Students entering the workforce are disabled from within by poor self esteem,  low aspirations, low confidence levels, poor cognitive skills etc.
This "inner disablement" leads them to underutilize whatever opportunities & infrastructures are provided to them and prevents them from taking up the several opportunities that are opening up to young people in India today.
The Contributor Initiative addresses this challenge of "inner disablement" in the area of work & careers for technical students.
It does so by helping students engage deeply with both fundamental questions of self (identity, victimhood & sense of volition, aspirations for career & success, etc.) and the cluster of cognitive capabilities  (value creation, collaborative behavior, solution finding, trust conduct, user centricity & learning to dive deeper into any subject) needed by technical students to fulfill their potential – both personally & socially – in the years of their productive work life.
The Contributor Initiative aims to bring about radical and measurable change in the levels of enablement of graduating students – especially engineers and engineering diploma holders in India.
The impact of such a change will be felt by all stakeholders in the ecosystem.
The graduating engineers themselves are likely to be more employable & better fitted to a changing world, contribute more, and find meaning & success in their careers.
Employers will be able to identify & select potential contributors, not just from the top colleges, but also middle/ 2nd rung colleges.
This will help them go beyond marksheets & degrees to discover the cognitive/ mindset orientations of potential employees.
A pipeline of future-ready contributors will be built from the technical education system to the larger socioeconomic ecosystem.
Indian industry will benefit from an improved work ethic and a growing pool of young people who do not ask what the country can do for you, but ask what you can do for the country.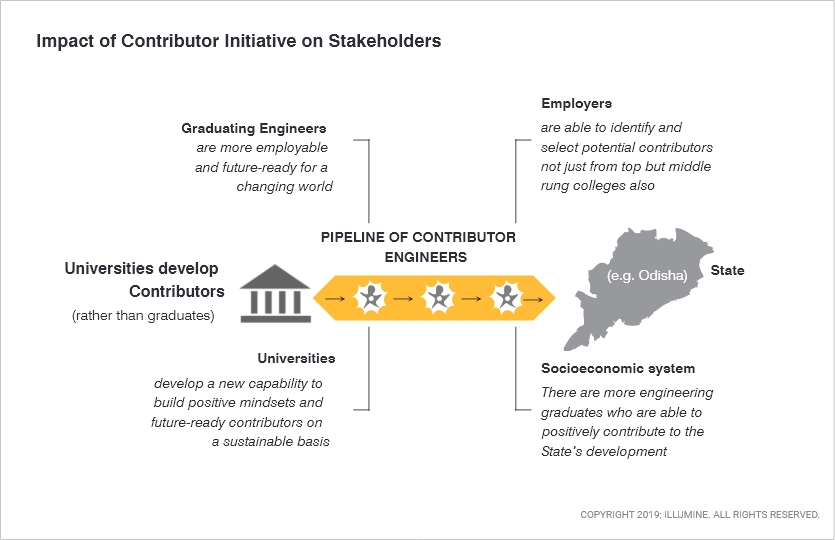 journey of the initiative [2011 – 2018]
The Contributor Initiative has been several years in the making
The initiative was first launched in Gujarat Technological University (GTU) in 2011 where a 4-credit course called the 'Contributor Development Program' was embedded into the university curriculum as a compulsory element. 
The initial initiative in GTU was funded by the Adani Group as part of a multi-stakeholder intervention involving GTU, Illumine & the Adani Group.
Over the next seven years, the Contributor Program in GTU has evolved into a sophisticated intervention which successfully addresses several interrelated issues:
How to make students future-ready contributors?
How to ensure effective assimilation of ideas leading to genuine transformation in students?
How to maintain the quality of teaching/ learning across a large number of diverse institutions, in this case, nearly 400 engineering colleges affiliated to GTU spread across Gujarat?
How to ensure commitment & support from individual college authorities?
How to ensure the commitment of the entire university ecosystem – including academic council, examinations, placement, potential employers, etc. to ensure better outcomes?
Thus far, more than 700,000 students have gone through the program. 
Independent studies by reputed bodies like the Indian Institute of Teacher Education (IITE), testify to the effectiveness of the intervention. 
Furthermore, the success in GTU has led to adoption by institutions like IIT Delhi & IIT Jammu, and several other private universities.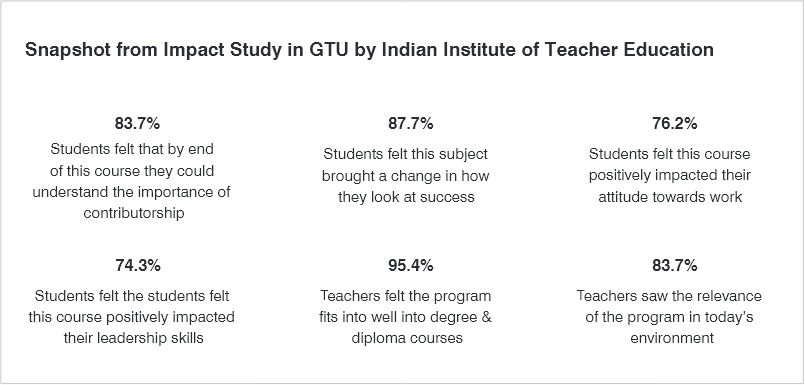 MoU with AICTE in 2019 to scale the intervention across the country
AICTE studied the GTU experiment and in 2019 entered into an MOU with Illumine Foundation to replicate the multi-stakeholder intervention model to cover engineering/ technology institutions affiliated to public universities across India.
Scaling of the initiative will need setting up of a series of multi-stakeholder partnerships where Funding partners, Universities, Illumine, and AICTE come together to make it possible.
AICTE has committed to (i) introduce the Contributor Program in the Model Curriculum for technical universities, (ii) help share details of the Contributor Initiative with universities.
Illumine Foundation will (i) enroll universities to sign-on for the intervention, (iii) set in place all systems, processes and build capacity in the university such that the initiative become self-sustaining in a 3 years time (iii) make the IP developed thus far, available for the initiative free of cost.
Universities and affiliated colleges will make the program a part of their curriculum, make their teachers available for the conduct of the program, provide infrastructure and other facilities for running of the program, etc.
We invite funding partners to support the implementation cost of Contributor initiative in a university or cluster of universities.
The goal is to reach 11 Large Technical Universities (across India) and Clusters of Small Universities in the next 4 years.
University Program Components & Roadmap to Sustainability
Core Components 
The intervention in its present form has two primary components – 
Core classroom program complete with tools and appropriate pedagogy aimed at building 'future-ready contributor capacities'
A digital showcase module that enables employers to identify potential 'high contributors' from among students by mapping the contribution orientation of students (such as design, project management, sales & marketing, etc.) 
Roadmap to sustainability
We view an intervention with any one large university or a cluster of small universities as a 3 year journey. 
Over the 3 years, we seek to embed the initiative on a sustainable basis within the university(ies), by building capacity & commitment with the university, building a pool of committed teachers, and by providing digital enablers, audits and other mechanisms, to ensure quality & sustainability. 
The 3-year intervention in any university will culminate in the setting up of a Contributorship Department or Lab within the large university or cluster of universities.
Once the Contributorship Department or Lab is set up, we create a sustainable pipeline of students into society with minimal external support. 
Long-term Strategy for Sustainable Outcomes 
As we replicate the intervention in multiple regions and all major technical universities, we will have built a network of collaborating labs across universities in India working towards creating the next generation of future-ready contributors. 
This network will be supported by a multi-university ecosystem of certified trainers, and supported by a central hub/ center, that will enable the ongoing evolution of the initiative across the technical education sector.
An initiative designed for high socio-economic return 
Since this initiative uses the existing university infrastructures, staff & processes, the social return on investments made are exceptionally high.
At a nominal investment per student, we are able to –
bring shifts at a deeper mindset/cognitive level that will have both immediate & lifelong impact on multiple generations of students,
benefit employers & industry at large, and
embed a sustainable, long-term model for upgradation of student quality, within the university system.
Illumine Foundation seeks to partner with Philanthropic Foundations and Organizations
Illumine Foundation seeks funding partners to scale-up the Contributor Initiative to universities across the country. 
Two ways in which partners could participate:
They could focus on a particular region/ state and help public universities/ technical institutions in this region make their students future-ready contributors.
They could partner with the entire initiative, so that the institution is able to help deliver a significant, positive outcomes, related to an important pain point for both the Central and State Governments.
Funding Partners also stand to benefit in these ways –
One, the company will make a significant and visible contribution to one of the biggest pain points for both Central and State governments
– which is the poor employability of graduates.
Two, through the program the company will also be able to build a strong and positive employer brand with thousands of students due to its support/ sponsorship in the State or cluster it chooses.
Three, as an employer, the company/ group could leverage the program's showcase mechanism to easily identify high potential future ready contributors even from lesser known, smaller colleges. This will enable it to identify 'contributors' and not merely academically strong candidates.
Moreover, embedding positive mindsets in the youth of a State, will have far reaching and long-term impacts in the lives of youth as compared to investments in skilling and infrastructure.