The Challenge
We have 6 million graduate youth who can potentially join the workforce every year and become powerful contributors to the nation.
However, there are challenges that youth are facing which are preventing from making this promise a reality – some of these youth have poor self esteem, some have a challenge of not getting jobs, while some are not willing to go beyond narrow career goals, to aspire to contribute to the nation.
Therefore, different students face one or more of these gaps. How do we bridge them?
Solution Approach
The Contributor Initiative seeks to bridge this gap through a 3-layered solution model.
What will be the impact of contributors entering the workforce?
It is only when young people, see their careers and their lives as vehicles for making great contributions & take up wicked challenges proactively that we as a nation can break the chains of our old 'chalta hai' and complaining culture and become truly great.
These contributors will be the people who transform the way existing institutions and systems are run, transform the way services are delivered to people, unleash the inventive & innovation capacity of this nation and work towards building a more enlightened citizenry in India.
The Mission
To awaken such Contributors across the nation in each and every state in a systematic, scalable and sustainable manner.
Human Possibilities Initiative
The Human Possibilities Vision
The goal of the Human Possibilities Initiative is to enable children & young adults to become aware of the infinite power, goodness and intelligence that lies within each one of us & manifest it in their own lives. It is to help children see that they are not bound by their birth, race, social status or geographical origin. They are the creators of their own destiny. They have all the potential to build their own future.
Implications of this vision
New vision of self
This means a new way in which children start looking at themselves – not based on talent, achievement, family; community background, etc. – but in terms of their; infinite possibilities as human beings
Adoption of new development pathways
It also means that children adopt new ways to think & pathways & believe that they can consciously awaken their possibilities and become extraordinary human beings.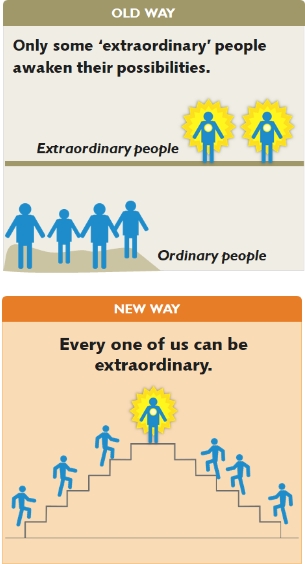 Impact on children
Our experience during the test-bed has shown that that transforming the vision of self has a cascade effect on students' self-esteem, confidence levels, desire & aspiration to develop new capabilities, class; social engagement levels, and overall school performance.
Can we imagine a new world, full of such awakened individuals?
… individuals who are awake to their infinite potential (respect for self and respect for others follows)
…individuals awake to their intrinsic oneness and equality among all human beings (peace and harmony follows)
… individual awake to their expanded and enriched role in the world around them (citizenship and socially responsible behaviors follows)